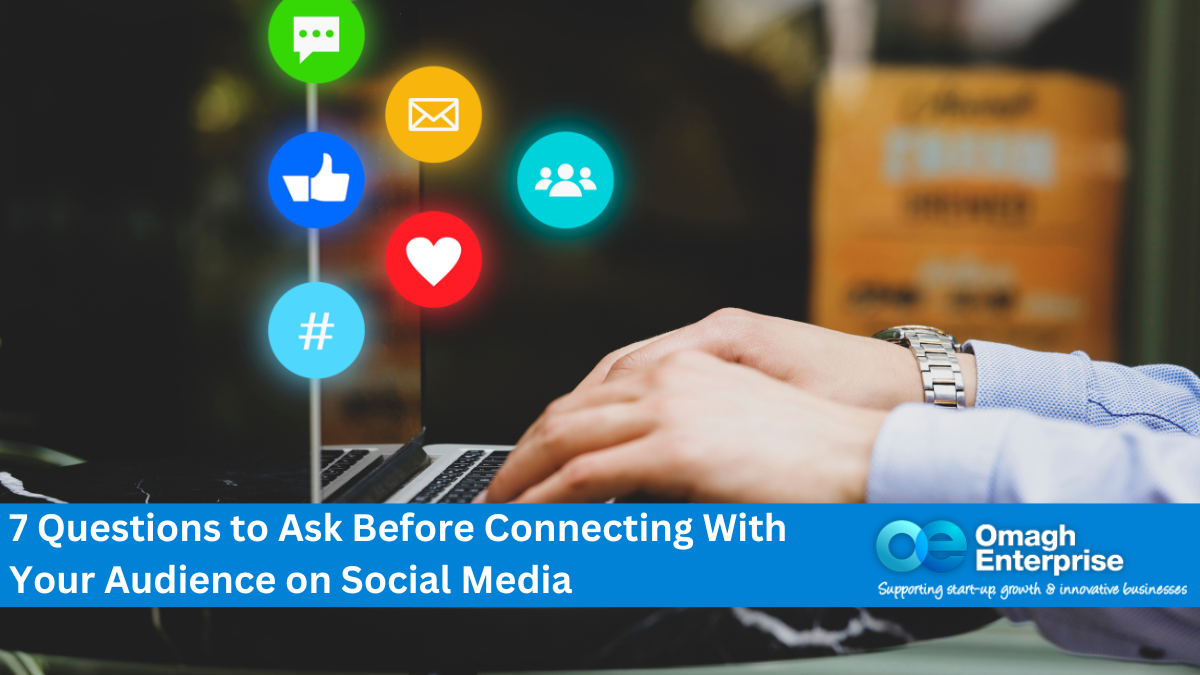 7 Questions to Ask Before Connecting With Your Audience on Social Media
More than three quarters of United States businesses use social media as a marketing tool, so the competition to get and engage with followers is fierce. It is almost guaranteed that there are companies on social media offering the same service or selling the same products as your brand. So, how do you rise above the noise?
Stand out from the crowd and make an authentic connection with your target audience by crafting a distinctive voice and style for your brand. Before competing with other businesses on social media, consider the following seven questions to craft a brand voice that sells.
Questions to ask before starting social media pages for your business
1. What is an ideal customer persona and how can I determine mine for social media?
You need to understand and define your target audience before connecting with them on social media. Building a customer persona will help you do this, as it is a realistic representation of your target buyer.
To develop your customer persona, you can ask questions about the roles and responsibilities of their daily workday, depending on your business aims. For example, if your brand develops a product or service that aims to automate tedious jobs during a workday, you could research the administrative tasks that they find frustrating.
You will also need to consider where they spend their time on social media. This information can help you create content that your target audience is more likely to consume regularly. For example, you may think that only people over age 50 are on Facebook, but Facebook's biggest demographic is people between the ages of 25 and 34, which make up almost 25 percent of Facebook users, said Statista.
Discover what your target customers value in the products they buy. This information can help you position your marketing messages. For instance, if your target audience highly values customer service, your marketing messages should emphasize that you have 24/7 customer support through various channels. Dive into your ideal customer's goals, motivations and values to understand what they care about. This research can help you connect with a potential customer on an emotional level.
Win your audience's hearts and minds by also looking into their frustrations. In this way, you can position your service or product as a solution to their problems.
2. What are my SMART social media business goals?
Before competing with other brands on social media, understand how social media can help you achieve your business goals. Setting SMART (specific, measurable, attainable, relevant and time-bound) goals can give you the motivation to hit your marks.
For the "specific" part of a SMART goal, ask yourself exactly what you want to accomplish on social media. If a goal is too large to be specific, break it down into weekly, monthly or quarterly goals per social media channel or metric.
You need to make this goal measurable so that you and your team know when you have reached your desired outcome. Also, look at how your social media goal can be achieved or attained. Do you have enough resources and commitment from your team to meet the goal? What issues could prevent you from reaching your goal? Your goal is relevant if it matters to the growth of the business. Think about the values of your organization that this goal affects.
Lastly, your social media goal needs to have a completion date. Your brand can hold itself accountable for a social media goal by linking it with an exciting feature or development. For instance, if your brand reaches 10,000 followers on your Facebook profile, you can release a new feature that your audience will love. You could also share updates on a weekly or monthly basis with your team so that they know that you are making progress.
3. Which social media channels does my target audience use?
You are not required to have a profile on every social network to have social media success. Instead, pick your social media channels based on where your target audience is and your industry.
Start by exploring how your competitors use social media channels. Analyze the type of content they produce and where. For instance, although Wells Fargo has a wide range of channels, each channel has a purpose. Its Facebook and Instagram highlight great things its customers are doing while its YouTube channel acts more as an informational hub for customers. Focus on the engagement that the platform's type of content gets.
The average person bounces between seven different social media networks each month, according to a DataReportal analysis. This is why it is critical to have multiple social media accounts on various platforms.
To make gathering competitive analysis and social listening easier, use a sentiment analysis tool to gauge the positive or negative views of your target audience on a topic. This type of tool can automatically analyze the opinions of an audience from online reviews and social media so that you can understand what people think about a topic or product. Additionally, use demographic data or research to discover the channels your target audience uses. For instance, did you know that 45 percent of Pinterest users have a household income of over $100,000 and that more than 60 percent of its users are women?
Utilize existing research on the topic or conduct surveys of your own to determine which channels your audience spends time on. Also, think about the type of content you want to create. If you're sharing video content aimed at a younger target audience, try focusing on TikTok, Snapchat or Instagram. Alternatively, if you are looking to curate whitepapers and exciting company updates, establish a presence on LinkedIn or Twitter. LinkedIn is also ideal for business-to-business lead generation as you can join groups and participate in discussions that can build your voice as a thought leader in your field.
4. How can I make sure the content I produce on social media is visible?
There's no reason to create great content if no one finds it. Optimize your brand profiles by filling out the account information as well as using the right keywords and imagery. For instance, use your Instagram bio to link to your brand's store while your Twitter profile can use the right mentions to amplify your authority in your field. Your social posts' links and hashtags should also contain SEO keywords to boost your social media ranking.
Also, image and video content have a further reach than text-only posts. For example, live videos on Facebook get more engagement than other types of content.
Increase your engagement with photos of your customers, employees and behind-the-scenes exclusives. Sharing user-generated content will also act as social proof and improve awareness of your brand.
You can boost the visibility of your brand further with power words in your social media messages. These words encourage an emotional response for a reader, which could persuade them to buy. Analyze your top-performing content to understand what words and phrases your target audience uses to find solutions for their needs and use this information to boost your engagement and visibility on social media.
Monitoring your competitors' keywords could also help you understand the keywords and conversations that are encouraging engagement and shares. Once you have an optimal combination of topic and keywords, develop multiple assets around them, such as videos, blog posts, images and webinars to encourage existing and new followers to become customers. For instance, you could increase your number of followers on a social media channel with a giveaway or improve your newsletter signups with a free lead magnet.
5. How do I want to be perceived by my audience on social media?
Once you've determined your target audience, you must get rid of any corporate jargon and let your human personality shine through. This means that your colors, images and fonts should be consistent and unified to promote brand recognition. Use your social media posts to show that you understand what your customer wants and why they want it.
If you crave a better connection with your target audience, you also need to give more than you take. As a result, your customers will see you as honest and helpful, making them more likely to buy when the time comes.
Post more educational, useful content to improve the awareness and authority of your brand. Share testimonials and user-generated content to keep your messaging closer to the customer's voice.
Most importantly, don't ignore or respond poorly to negative feedback. When you get a negative review, respond quickly to the issue and handle the complaint, whether online or offline. Once you provide a resolution to the problem, you could ask the customer to share their experience on social media so that you can build a loyal following of customers who know you care about your users' concerns. The feedback you receive on social media could also help you improve your brand continually so that, next time, you can give customers a positive experience from the start.
Take your brand advocacy even further by recognizing that a lack of negative feedback does not mean there is nothing you could do better. Use polls to ask questions and monitor your social media mentions. Asking questions on social media can also improve your target audience's perception of your brand as it shows that you value their opinions. Listening to your customers' conversations on social media will allow you to respond quickly, which can rectify a negative experience. Questions or polls can also display your personality as well as love for your customers.
6. How can I differentiate my brand from others on social media?
All humans crave a sense of community and belonging. Creating a value-driven community will allow your target audience to feel part of a shared mission beyond only selling another product.
TikTok is the social media platform with the most engagement at 4.25 percent, way more than the next most engaged platform, Instagram at 0.60 percent, said Social Insider.
The first step to differentiate your brand from others on social media is to create a unique value proposition (UVP). A UVP should explain how your product solves your target audience's problem, the specific benefits it delivers and why customers should buy from you rather than a competitor. It should be easy to understand and avoid hype. Research shows that customers notice the value proposition more when it's in the format of a bulleted list and takes up more text on a page. Develop a UVP with a headline, subheadings, paragraphs of two or three sentences, three bullet points and an image.
For example, Zoom's headline on its website is clear and to the point, containing the call to action to "Sign Up, It's Free," which is a reason for customers to choose Zoom over its competitors. Once you develop a strong UVP, you can build a community of like-minded customers who help you acquire and retain more customers. For example, rather than focusing on selling software, Salesforce has built a Trailblazer Community of 19 million members who help each other succeed.
Similarly, Boss Babe is a private network created to help female entrepreneurs scale their businesses. Its UVP of advice, expert success frameworks, group coaching and member discounts and benefits is clear. Its testimonials also showcase why this community should be chosen over other women-driven entrepreneur communities.
7. What social media metrics should I use to measure my progress or success?
Your social media goals, business goals and social media metrics are all linked. For example, if you wanted to increase conversions, your social media goal would be to increase conversions from social media posts. You could consider using engagement metrics such as likes, account mentions or posts' engagement rate (number of engagements divided by the number of impressions or reach).
Higher engagement rates show how responsive your audience is, which type of posts receive the most attention and the general awareness of your brand. If you are more interested in brand awareness and perception, you can track the reach (potential unique viewers) of a post and the number of times it can show up in someone's timeline. If you want to increase awareness and educate your customers, you need to focus on engagement and impression metrics.
Using a paid advertising campaign? You might want to track your share of voice, which indicates how much of an online share your brand has in a competitive marketplace. If tracking return on investment is your goal, you'll want to track conversions (if someone purchased something from your site from social media) or referrals (whether social media resulted in a user landing on your website).
Metrics like these are essential, as they tell you how successful your current social media strategy is. By combining several metrics, you can get a better view of your social media performance.
The dos and don'ts of using social media for your brand
Do
Be authentic: If you make a mistake, acknowledge it and take steps to fix it. Make sure that your social accounts are not using generic stock photography but instead are using actual photos of customers and employees.
Use short videos: Social followers love watching videos and they have the highest engagement of any kind of social post. Keep them short (no more than 90 seconds preferably) so followers watch them to the end.
Post user-generated content: In addition to giving you more content to post, user-generated content is more authentic so that it resonates with followers. Be sure to give a shout out to the creator of the content to form deeper relationships with users.
Stick to a schedule: Post regularly to keep followers' attention and post the same frequency each week so that followers know when to expect new content from you.
Include hashtags: Hashtags help social media users find relevant content and are also helpful for tracking purposes. They are particularly important on Instagram, where you can use up to 30 per post.
Don't
Be salesy all the time: Social followers understand that you are a business and as such, will promote products and services. However, it's important to have a good balance of promotional content with informational and humanizing content. If your account comes across as too sales-oriented, you will lose followers.
Have a one-way conversation: Make sure that you interact with your followers regularly. If the online conversation slows down, start conversations by asking your followers questions or to participate in fun polls. If followers reach out to you, answer them as soon as possible even if the comment is negative or a complaint.
Use the same strategy and tone across platforms: Each platform has a different audience and vibe. Get in tune with who your followers are, what content they prefer and the tone in which they communicate.
Expect instant results: Building a following and engaging with your social followers takes time. Be patient and keep at it.
Take haters personally: On most social media accounts, you will eventually encounter an internet troll, someone who is just nasty and won't listen to reason. Respond in a reasonable way and leave it at that.
Don't be overwhelmed by all of the noise from other businesses on social media. Cut through this clamor strategically by determining your target audience and creating your social media goals in line with your business goals. Then, determine the best social media channels for your brand and produce content that your target audience craves. Find ways to differentiate yourself from other brands in a competitive landscape. Finally, determine how you will measure the success of your social media plans.
Source: business.com